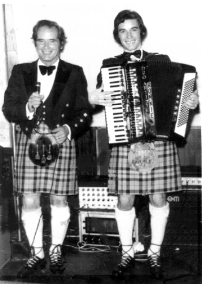 Stewart and Ronnie decided to go full time in the music business in 1973 / 1974 and worked the length and breadth of the U.K. in cabaret and clubs as a duo. They played large venues such as the Hammersmith Palais and were part of variety shows including "The Stan Stennett Show" and toured the English working mens clubs alongside acts like "Little And Large". They worked for Ronnie Coburn in his touring Scottish summer show "The Waggle O' The Kilt". Ronnie also guested with "Alec Finlay And The Royal Clansmen" where he played alongside accordion maestro Will Starr.
After playing in various bands over the years, Ronnie returned to the music business as an all round solo entertainer. He sings and plays keyboards, accordion and guitar and works the hotel and club circuit in the Highlands of Scotland. He also runs a recording studio and arranges and produces albums for artistes in a wide range of musical styles. He is married to Sandra and they have two boys Jordan and Nathan.
Ronnie is a resident entertainer at a number of hotels in the Highlands of Scotland, mainly working for the Shearings Group you can see him in Strathpeffer, Gairloch, Fort William and Dornoch and at clubs and functions throughout the north. To enquire about bookings e-mail: ronnie@ronnieross.co.uk
Ronnie Ross was born in Inverness in 1954. He was brought up in a musical background as his father, Stewart Ross was well known in the Highlands as a singer and songwriter. Ronnie started to learn accordion at the age of nine. He learned by playing along with records and was completely self taught. By the age of eleven he was playing in his dad's dance band and went on to make his first recordings with the "Stewart Ross Dance Band", three LP records, in the late sixties and early seventies.